What does Onoff do?
Onoff is a French startup founded in 2013. They offer an opportunity to have a second phone number with their app without needing to use another phone.
We looked at their campaigns and found many areas to improve them. So we took over their digital campaigns.
Goal: get better results from Google Ads & Apple Search Ads
The goal was to turn Google Ads into an effective channel, increase the downloads and the customer base while improving profitability in France.
To remain profitable, the price of one purchase had to be kept below €20.
With Google Ads, the main focus used to be on search campaigns, but in Google Ads, you can also run separate app campaigns. The way you run these campaigns are completely different but they have a bit of an overlap as ads from app campaigns can also appear in Google search results.
The aim was to get both campaign types to work more profitably because although both campaign types duplicate each other to some extent (mobile searchers), customers also search for this service on a computer, and these people cannot be reached with app campaigns.
Onoff was also running Apple Search campaigns but the campaigns, although profitable, were spending quite little compared to Google Ads. So we also took a look there at how we could scale the campaigns.
What did we do?
Top actions that impacted Google search campaigns the most:
Setting up a special web-to-app tracking for the client through Branch. This enabled us to see the results of traffic moving from the web to the app. Without doing it, we would have no idea which keywords are actually effective for us and bringing results at a good CPA.
Not focusing on the Cost per Install but on the Cost per Purchase. Certain keywords resulted in cheap downloads but didn't convert into purchases.In search campaigns, we constantly tested new keywords and segmented audiences based on keywords and found the keywords that brought the most valuable customers.
Top actions that impacted Google app campaigns the most:
Incorporating Google Analytics for Firebase. It's a Google product, and using Firebase events allowed campaigns to be better optimized.
We tested different approaches to make the algorithm work best for us. Google app campaigns are highly algorithm-dependent and it's important to give it the best inputs.An example of one testing cycle:1. In the beginning, we set a goal of increasing the number of downloads to collect data and get the campaign off the ground.
2. The next step was to target downloads, but with a focus on one event.
3. Then we tried targeting only purchases, but we found that what we tried in the previous step was still more effective because there was more data and campaigns could be optimized more quickly.Since ad texts affect targeting, we often changed them. For images, we found the most successful topics and add more of those.
Top actions that impacted Apple Search Ads campaigns the most:
The campaigns were already using all the relevant niche keywords but the volume was small. We focused on adding a lot of high-volume but less relevant keywords in order to achieve scale. At the same time, we added the keywords with the biggest potential into the app Metadata as well in order to increase the relevancy and thus increase our show-up rate.
Testing different app store screenshots with different keywords – to increase the CTR and the conversion rate.
Decreasing the bids for the brand campaign 4x as they were spending an unreasonable amount of money with high CPCs for a brand campaign.
Ads
Android app ads: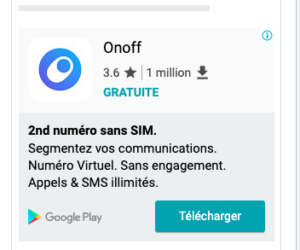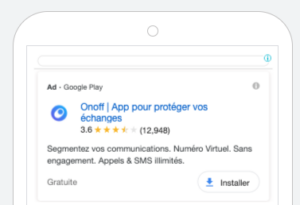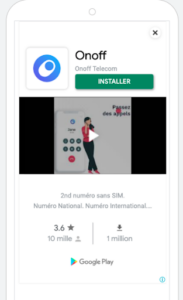 iOS app ads: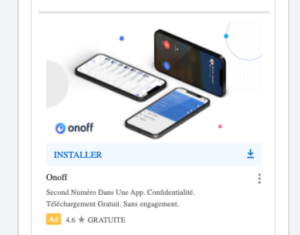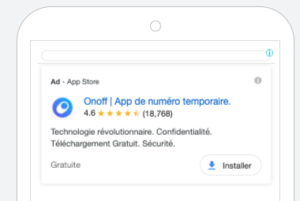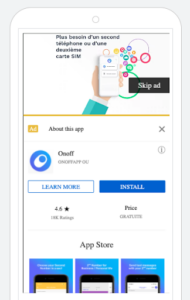 Google search ads: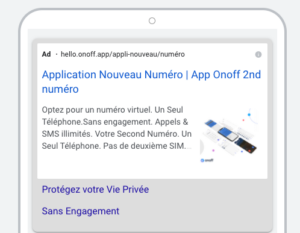 Apple search ads: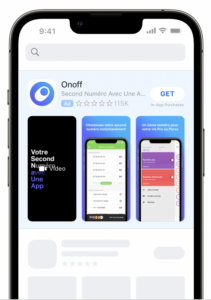 Results: downloads & purchases increased 4x in Google & 12x in Apple Search Ads
While previously Google Ads was a channel with little impact and the only effective campaigns were brand campaigns, then now the **most downloads and at least a third of purchases come through Google Ads**.
The results gave Onoff the confidence to increase the monthly Google Ads budget by four times while remaining profitable.
The same happened with Apple Search Ads and even with a bigger effect. Lowering the ad spend of the brand campaign (bidding too high for keywords that would have gotten us the install anyways) allowed us to allocate more budget for testing new keywords. We found a couple of very big winners that helped to scale the non-brand campaign by more than 10x.
Android Google Ads results:
Monthly Android installations: +72,000
Registered users: +23,000
Purchases: +7,300
iOS Google Ads results:
Monthly Android installations: +11,300
Registered users: +4,200
Purchases: +2,500
Google

Search campaigns results

:
Number of installs: +2,888
Number of purchases: +1,338
Cost per purchase: €17.7
Growth of Android purchases:

Growth of iOS purchases:

Growth of downloads:

Total results
Cost Per Click: 0.19
Cost Per Action: 11.2€
Impressions (monthly): 20x
App downloads: 85K
Growth of app downloads: 401%
Apple Search Ads results
Cost per Click: 0.63€
Cost per Install: 1.6€
Cost per Action: 10.5€
Impressions (monthly): 30x
Growth of app downloads: 1200%
Growth of purchases: 1000%
What made the campaign successful?
Setting up analytics, making sure we get the correct results and measuring every step. Giving Google's machine learning algorithms correct signals and strong input in the form of great creatives.
Constant testing and using different channels: iOS app campaigns, Android app campaigns, Google search ads and Apple Search Ads. Testing incrementality and not trusting each platform fully.
If you'd like our help getting your app successful, click here 👈.
Read more about our strategies in our blog.