Google is the second-biggest ad network next to Facebook for driving installs and in-app actions for your app. It can be a goldmine when utilized correctly and can help you scale your app globally to millions of users with a positive ROI  – Check out our case study with Synctuition on Think with Google.
It's important to know the best practices and tips for maximizing your chances of success as otherwise you will waste a ton of your ad spend. I put together this very detailed guide on Google App campaigns (UAC) to help you on your way.
What is Google App Campaign and how can I promote my app using it?
Google App campaign (formerly known as Universal App campaign) is an automated type of campaign that app advertisers can use to increase the number of installs, in-app events or purchase value by running ads in 4 major placements: Google Search, Display (different apps through Admob network, Google Play store, Discover) and Youtube. 
The automated part means that the advertiser doesn't have close to any control over the targeting as it's up to the algorithms to decide which networks and placements your ads will get shown on.
One could say that the Google App campaigns are as mysterious as a box of chocolates – you never know what you are gonna get :).  
How it works is that you put in the assets, choose the locations you want to target, set the budget and the bid, and off you go! There are not as many things to optimize as one has in normal Google Ads campaigns which means that there are a few major things to focus on.
Here's an example of how the ads will look like in different placements:

Best practices for Google (universal) app campaigns 
With the targeting being fully automated, there still are a few major things to consider when wanting to achieve the maximum potential of the campaigns.
1. First things first  – have an app and an app listing that doesn't suck
One of the first things you should consider doing is building a well-thought-out App store listing that brings out the core benefits of your app and includes text with keywords, great screenshots, and a good preview video. Why? Because this will play a major role in the success of your app campaigns. 
App store listing is important because –
Google will use the text and all the info provided in the app store listing to understand what your app is all about in order to understand who they should start showing your ads to. 

Your app listing may either encourage people to install the app or drive them away – When people click on your ad, they will be directed to the App store listing of your app. If your app screenshots and text look uninviting and the average rating is below 3.5 or even below 4, it might drive people to be cautious and read reviews to find if they should stay away or not. 
There are a few things you could do in order to increase your chances of achieving success even though there is no direct way to choose your targeting.
2. Why tracking is key for Google App campaigns
Tracking is actually the number one thing to have in place before starting App campaigns in Google Ads. 
It's possible to run Android campaigns optimized for installs as Google automatically tracks and sends back all the install data coming from Google Play, but this won't get you very far. To run App campaigns efficiently, you will need to have tracking and important events set up.
For iOS, the tracking needs to be set up either through Firebase or MMP (mobile measurement partner). To read more about tracking in App campaigns and the importance of it, read this article I wrote a while back.
Without tracking you can't also set up the optimal campaign set-up that could maximise the potential of your campaigns.
3. Different bidding strategies for Google App campaigns
Before we talk about campaign structure, you should know that there are two main bidding options to focus on: 
Installs

in-app actions.

If you choose installs, then you will have the option to either set a tCPI goal you want to aim for or leave it untouched and just focus on getting as much volume as possible.
You can also set the main focus to be on installs in order to give the algorithm additional focus to target users likely to perform an in-app action.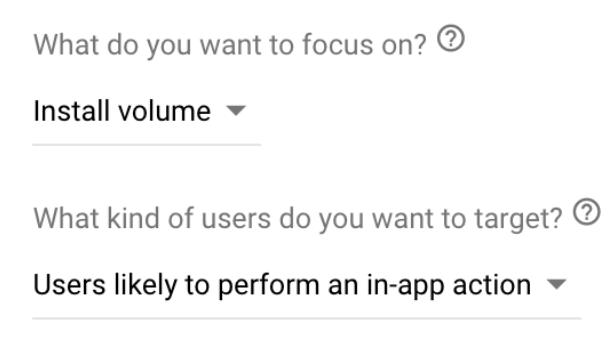 In general, this option will weigh an install outcome more than an event outcome.
If you choose to optimize for in-app actions, then your campaigns would work as tCPA campaigns, where you set an event to optimize for and the tCPA you would want to achieve. 
If you are using Firebase event tracking then you might also be able to run tROAS campaigns, where the optimization will be on maximising the conversion value at the lowest price. 
Optimizing for tROAS is very useful when the average order value is different for most users. For example, if there are lots of users purchasing monthly subscriptions and you want to focus on the yearly subscribers or if there are certain power-users for your mobile game who spend a lot more compared to others.
4. Best practices for Bid to Budget ratio
In order for the optimizations to work optimally, Google recommends the following bid to budget ratio:
App installs:  Budget is 100X tCPI. If tCPI is 1€ then the budget should be 100€
App action optimization:  Budget is at least 10X tCPA. If tCPI is  10€ then the budget should be 100€
If you are not meeting the recommendations then the algorithms might not have sufficient data to work effectively, causing higher CPAs and bigger fluctuations.  
5. Optimal campaign structure
So how should you structure your campaigns? Google recommends you to have 2 campaigns for each geo you are targeting. One for Installs and the other one for Actions.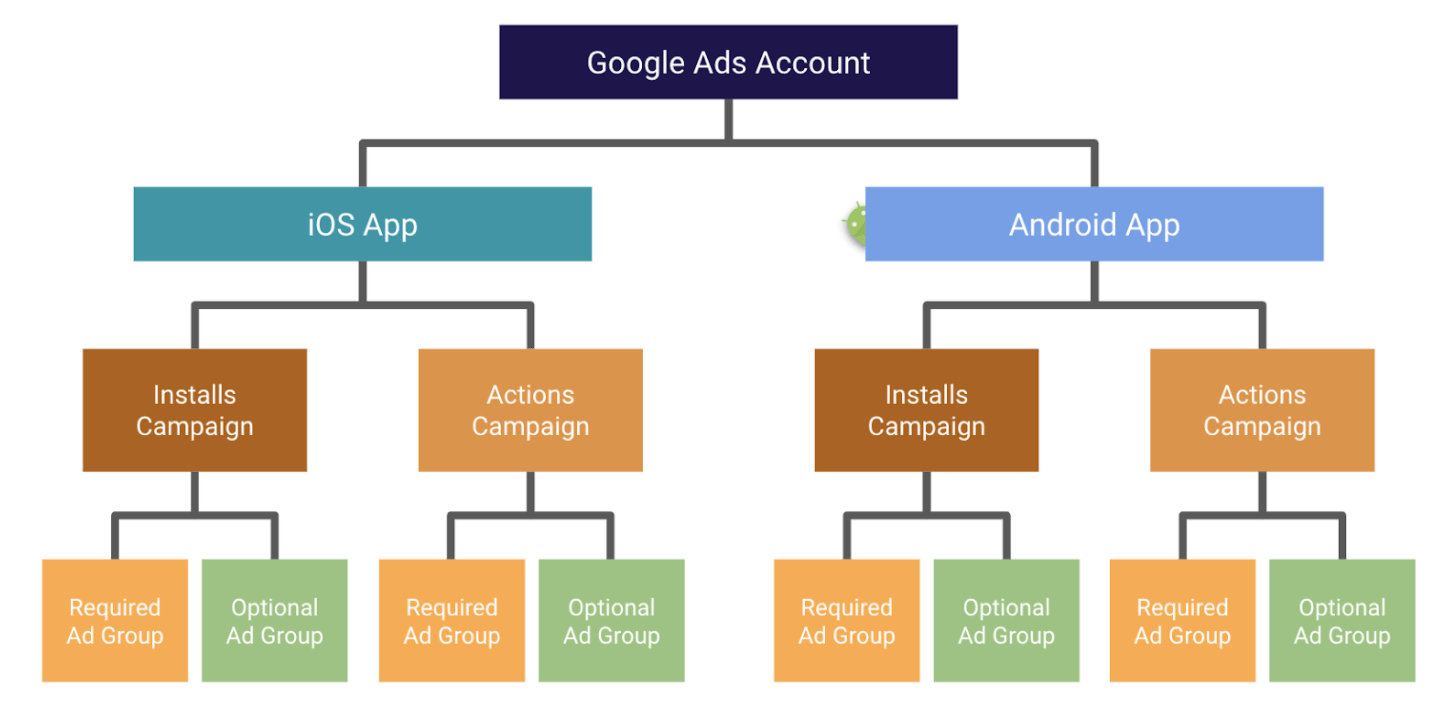 Each campaign may have more than one ad group. For example if you have different themes or functionalities that your app supports, you can segment them into ad groups and test how they perform against each other.
From personal experience, we had lots of success initially with just running install campaigns and getting the desirable CPAs while the Action campaigns were performing pretty badly. With time however, we ran some test Action campaigns again and they started performing better than Installs. Now it is the Install campaigns, which have much higher CPA than we have with Action campaigns. 
In certain accounts, the optimization of installs + in-app events works even better than optimizing for only in-app events. For example if your action campaigns don't get enough volume for the campaign to work properly. 
If you are just starting out, it's better to focus on the campaigns optimized for installs first until the algorithms learn which users are converting from install to in-app events the best.
I recommend making tests for your own campaigns and seeing which conversion optimizations get you the best CPA and see if it makes more sense to run install campaigns or action campaigns or both at the same time. As these campaigns are hugely based on algorithms, then give them at least a week to learn and see what results they may bring. 
Currently on our accounts, we don't run many install campaigns, as Action campaigns make more sense for most apps for getting the best and most valuable users at a profitable price. If you have really low budgets, then the Install campaigns might be better as action campaigns need higher amount of conversions.
The reason why tCPA campaigns work well lies in the smart algorithms of Google, which over years have been getting very good at predictions on which users are more likely to make an in-app purchase or perform an action. The algorithms are going to get smarter and smarter as time goes on, so if you run only install campaigns you should at least try to experiment with an actions campaign as well!
6. Which conversion event you should choose for the Action campaign?
Choosing the correct conversion event is an important factor, which could influence your campaign's results a lot. In general, I would advise choosing an event that is very valuable to you and which would still get around 10 events per day for each campaign. Even if the event gets around 5 events per day, it might work much better than optimizing for just signing up or beating level 1.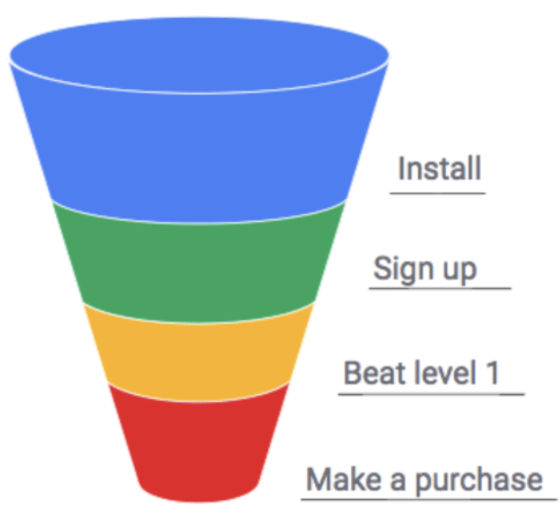 Focusing on the right event is super important because with this event you are telling Google to find people most likely to complete this event. If you are targeting "sign-up" instead of "first open" then you are already making progress as you are getting users who are more likely to complete actions more down the funnel than just installing or opening the app. And now if you are targeting "in-app purchases" then you are telling Google to focus on people who are most likely to purchase.
Although the Cost per Install will increase then it is evened out by the actions as the people you are getting will be much more valuable than the ones getting targeted by install campaigns. That's why it's important to not focus on Installs as your main KPI as there is a major difference in the quality of different installs.
7. How to structure international campaigns
This is actually a more important point than people think it to be. The Lifetime value for users in different countries is not the same and may differ a lot between the countries with higher GDP vs lower. That's why you should look to have separate campaigns in order to have the most control over the bids placed for different countries. 
If the LTV is similar, then you can also group some countries together in order to get more data for the algorithms to work optimally and get more data points. For example, you can target people who speak English in the Nordics. 
Grouping of the countries comes most useful if there are not enough conversion events to have separate campaigns for these countries. By grouping you are giving the algorithm more room to find the conversions needed. 
The competition in non-English speaking countries is usually also lower than in English speaking countries.
8. Localisation can make a big difference in getting extra scale from non-English speaking countries
Although you can run ads in English in a lot of countries where people have good English skills, there is a lot of scale that you are leaving on the table when not localizing your app and ads to the biggest languages: Spanish, Portuguese, Russian etc. 
The amount of inventory you can unlock will be bigger and people will interact with your ads a lot more if the ads are in their native language. The need for localization depends on the type of app you have as well – apps focused on services (food delivery) will demand localization much more than apps that can be used universally no matter the location.
9. How will changing bids influence the campaigns? How to optimize the campaigns?
Changing the target CPA or CPI might make a big difference in the performance and it also plays a big part in optimizing Google app campaigns. If you are setting the CPIs too low then you might "strangle" the campaign and not give the algorithm room to test out different inventories nor get the sufficient conversions needed. In this case, you are likely to get no inventory on Youtube as it is the most competitive placement.
Very high bids might give the algorithm the signal that you are getting results at a very good CPA and are interested in scaling & willing to pay a higher price for a client. This will likely get your campaign a status "Budget limited" as with a really high tCPA there is a lot of inventory that could be used and tested.  
Therefore it is important to test out different bid levels to find where you can unlock Youtube traffic while keeping the CPAs at profitable levels.
Unlocking Youtube is especially important if you are looking to scale more aggressively. There are only so many searches being made in Google Search for keywords related to your app and running out of inventory is easy. Display placements can be good and profitable at times, especially if ads are shown in the Google Play store but it's also not too scalable. 
If looking for high growth, unlocking Youtube placements is key
It's possible to run Video only campaigns as well, but a Google rep's help is needed so that it could be enabled. Even the video only campaigns won't quarantee YT traffic. 
Sometimes, even with very high bids in-app campaigns, it's pretty difficult to unlock Youtube. The reason is that perhaps the video is not of higher quality and people aren't interacting with it or it is too short. 
Don't make drastic changes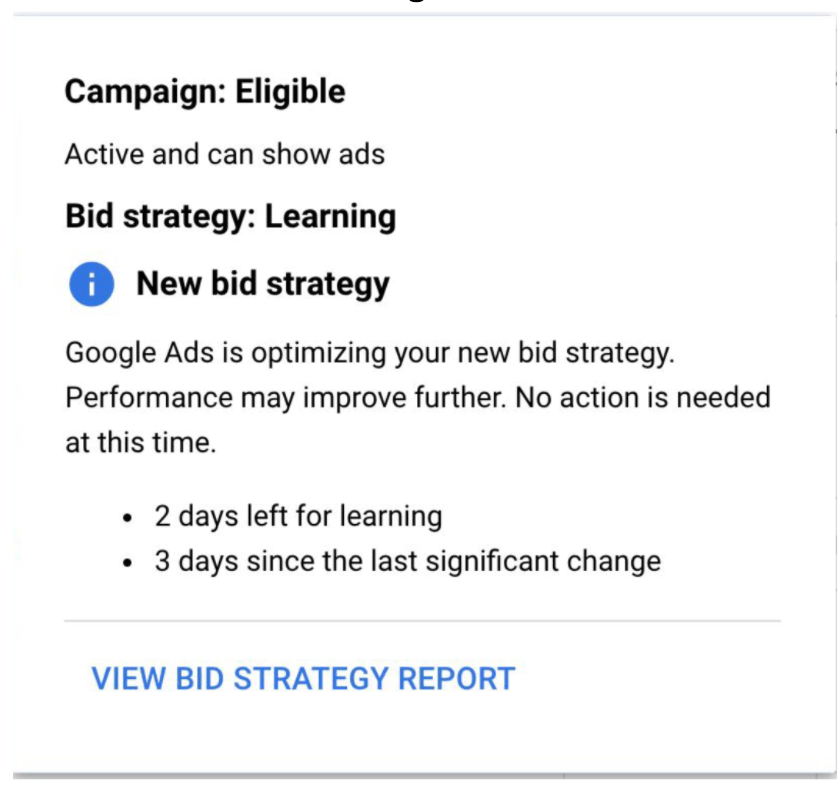 If you are making changes to the bid for tCPA or tCPI campaigns, try to keep the changes below 20% in order to keep the results more steady. If you want to switch the campaign optimization from tCPA to tCPI or other way around, it's best to make a new campaign.
If everything in this article seems overwhelming to you and you'd like our help implementing these strategies for your app, then click here 👈.
10. Can I do remarketing for app users?
Google launched App campaigns for engagement in December 2020 (used to be available to only selected advertisers before), but there still are a few limitations regarding eligibility. Right now, in order to run app remarketing campaigns you will need to have:
minimum base of 250,000 installs so your audience is large enough to achieve your campaign goals. 

Implement deep linking with App Links, Universal Links, or custom schemes. Users will be taken directly to the relevant item or page they tapped on in your engagement ad.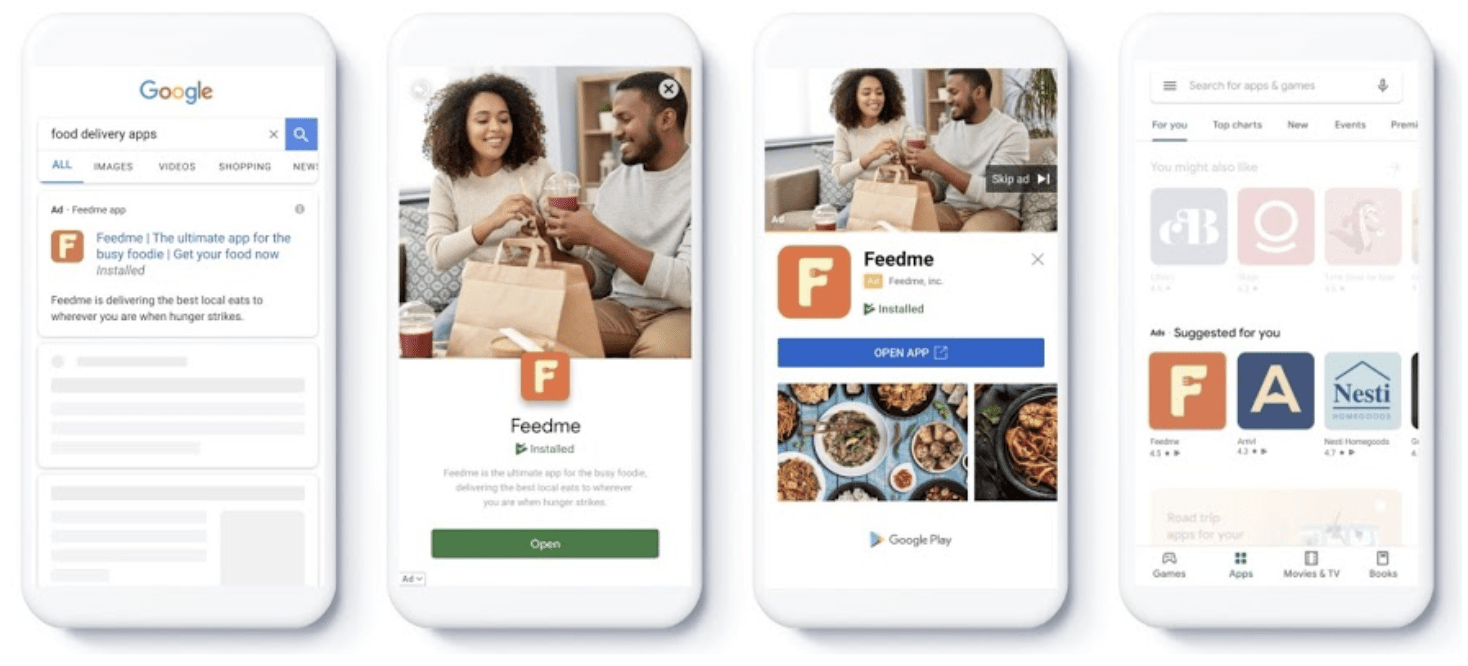 Source: Google
While the limitations are keeping quite many advertisers from using them, the App campaigns for engagement can be useful in many cases:
Re-engage people who haven't used your app or game for a while

Target high-value people that haven't paid or purchased in a while

Drive in-app purchases for your product or service

Remind people with items in their cart to complete check-out

Re-engage people who have installed your app, but haven't opened or used it yet

Promote a live event or sale
Check out Google's guide for further resources.
11. How do iOS 14 updates and SKAdNetwork influence Google App campaigns for iOS?
Unlike Facebook Ads, you actually don't need to do anything extra from your side to run Google App campaigns (if you have firebase) as the SKAdNetwork configuration is already done automatically.
What you do need to know is that Google uses a lot of modeling to show you the results that you see in Google Ads interface for iOS campaigns. Already pre-iOS 14, the conversion coming from Google Search network was modeled, but now it's also modeled for Display and Youtube. You can still see SKAdNetwork data as well, which is not modeled but uses data aggregation. You can access the SKAdNetwork report here: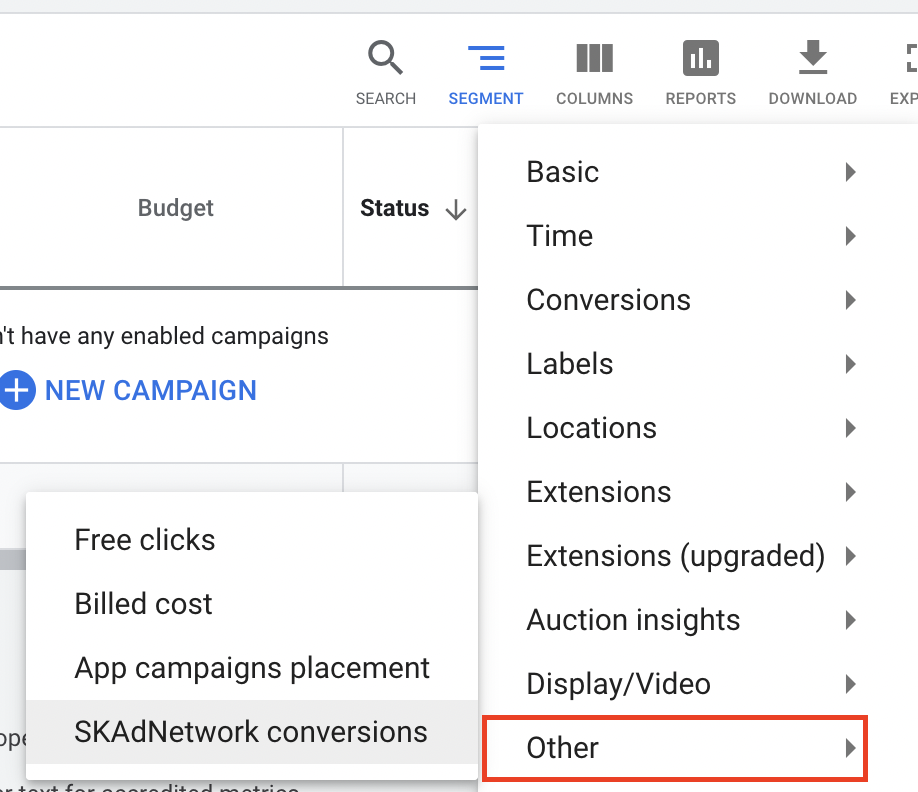 The data delay will be bigger than before 
There is close to no point in looking at data not older than 2 days as it will be very incomplete. App campaign modeled conversions may take up to 5 days to appear and that's in addition to the normal conversion delay.
You should also keep in mind to not have more than 8 iOS campaigns. Running 8 or fewer campaigns can help ensure that each campaign has sufficient conversion signals.
More info about SKAdNetwork and iOS 14 changes can be found here.
In order to evaluate results, in addition to the Google Ads interface, we recommend having dashboards from your internal data, where you can analyze incrementality and see if changes made in Google Ads affect overall results (this method is effective when you don't have many ad channels running and Google app campaigns make up the majority of your app installs).
12. Your assets will either make or break your campaign
As already brought out before, the assets are extremely important for App campaigns in Google, as they will help with the targeting + they will do a key job in persuading people to click on the ad and become a user of your app.
Ad creative (especially video) is where the big wins are going to be made and it makes a huge difference. If you are planning on scaling your campaigns big, you need to find winning creatives for doing the trick.
The algorithms are doing all the heavy lifting finding the right placements, making sure to target the right users with the right bid. It's up to you to feed this beast of an algorithm with the best creatives.
Want to get direct advice from an award-winning App Agency consultant?
Suggestions and best practices for assets in Google App campaigns
Assets are the building blocks of Google app campaigns. You can add text, images, GIFs, videos, HTML5 playable ads and the combination of them will be used by Google's algorithms to create ads and show them in different placements.
Text in the Ads – In each ad group you will have an option to choose 5 lines of headlines, 5 lines of description, 20 videos and 20 images. You don't have to add all the assets at first, but it's good to have at least a couple of different variations in order to find a winning combination of ads
The headlines and text will kind of work as keywords for the algorithm and helps it to target people who would find this relevant. Then the images and the videos will also get shown to these people across a variety of networks, including Youtube, Play store, Display network sites, other apps, Youtube, and more.
It is recommended to have different themes/topics/use-cases as ad groups which Google's algorithms could use for targeting different audiences and topics. Different visuals, text, and images will be served to different users.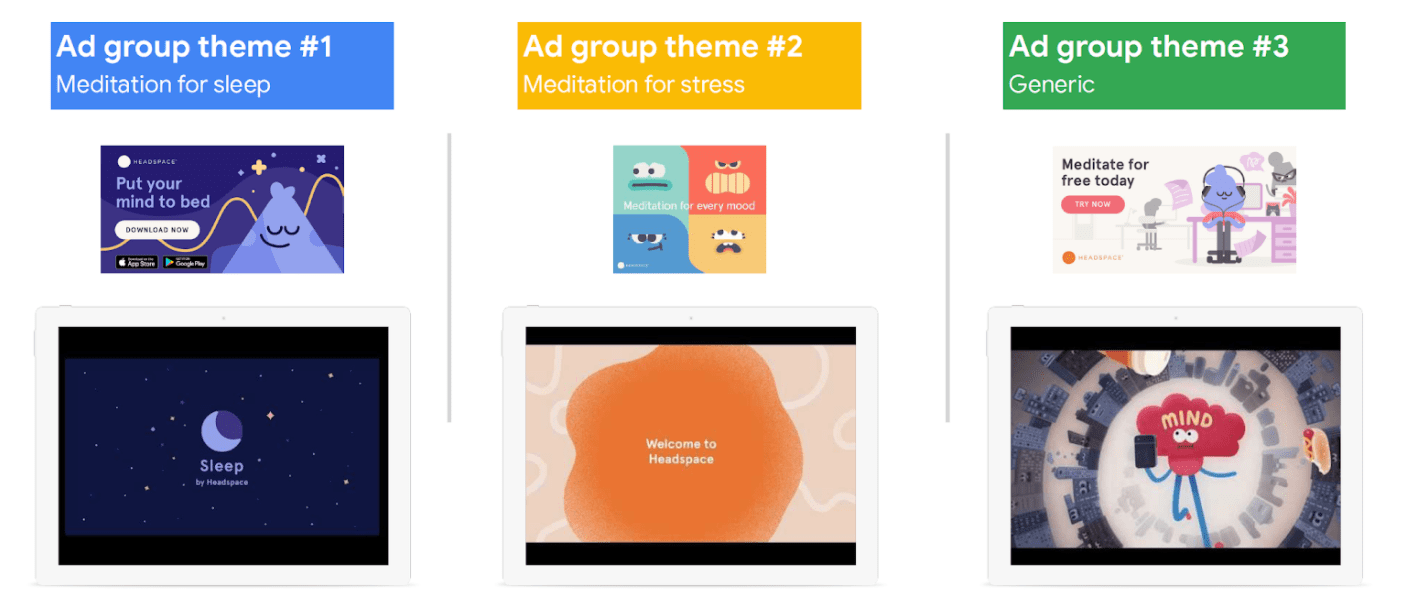 Source: Google
With the ad text, it's important to keep in mind that each line of text should act as an independent asset and may be shown with or without a description and with or without other headlines.
Make sure to bring out what's special about your app, what problems it solves, what are the benefits or why people should download it. There is no point to use your app name as the headline, as it will get shown in the ad anyway. It also isn't necessary to include the CTA "Install now" as the Install button is included in the ad anyway.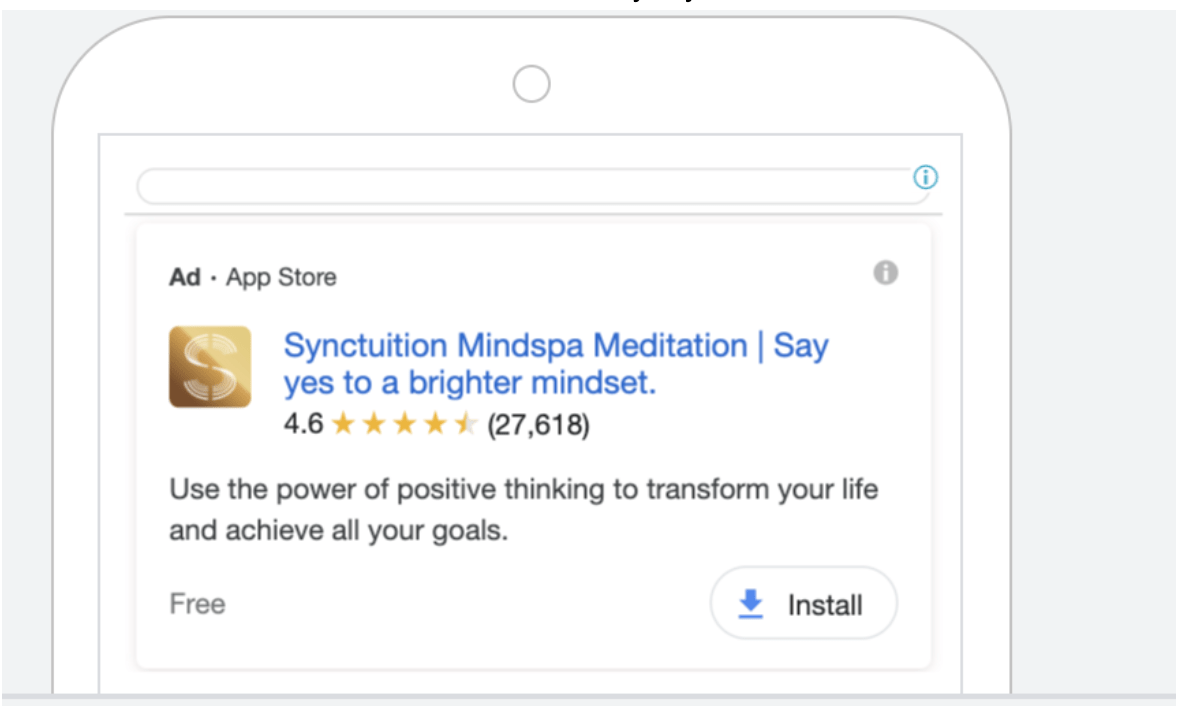 Is it okay to only use text assets for Google app campaigns?
I have seen many App campaigns where people only use the text with no images or video, which is not the best idea, as then Google will pull the images from your app store listing or generate a video automatically, which might not perform well or might not go together with your ad text. You will have no control over which images or videos might get shown and you won't know the results for them as Google won't show them in the performance columns nor the KPIs for it.
This is an example of an auto-generated video that Google might put together themselves and use in the campaigns: 
That doesn't necessarily mean that you should use all the 20 images and 20 videos either. Having a low budget with that many creatives means that it might bog down the algorithm and take longer to learn. 
It's important that you provide the algorithm some key formats that will help to drive the performance in different networks. 
What are the must-have format sizes for Google App campaigns?
There are a couple of key format sizes that can make the most impact on your app campaigns.
Landscape

format video – Create longer videos if you want to increase your chance of being shown on Youtube (over 45 seconds). Create a shorter and more straightforward video as well that can be used in the Display Network and Play store.
Good to have formats for Google App campaigns:
Portrait video (9×16) –

For display network. It could be from 15 seconds to 3 minutes long.

Square (1000×1000) or aspect ratio of 2×3 video  –

For Display network

Landscape

format image (1200×628) – Key image format for different placements
Here are a couple of examples of Google Admob display ads: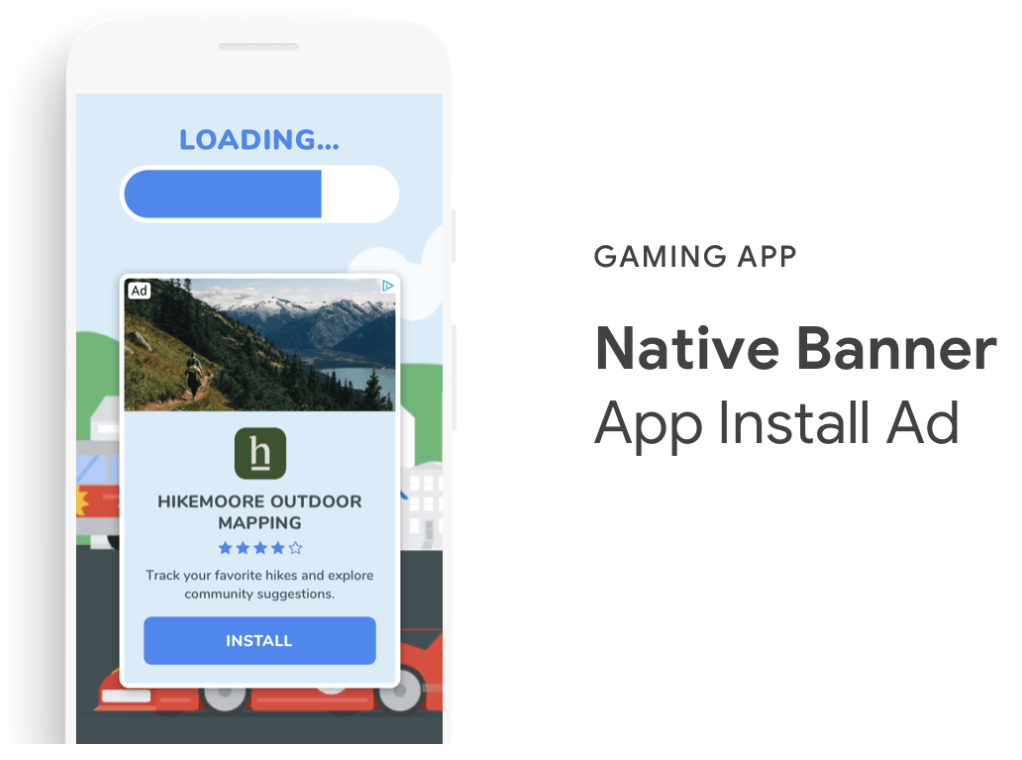 Native Banner Admob ad. Source: Google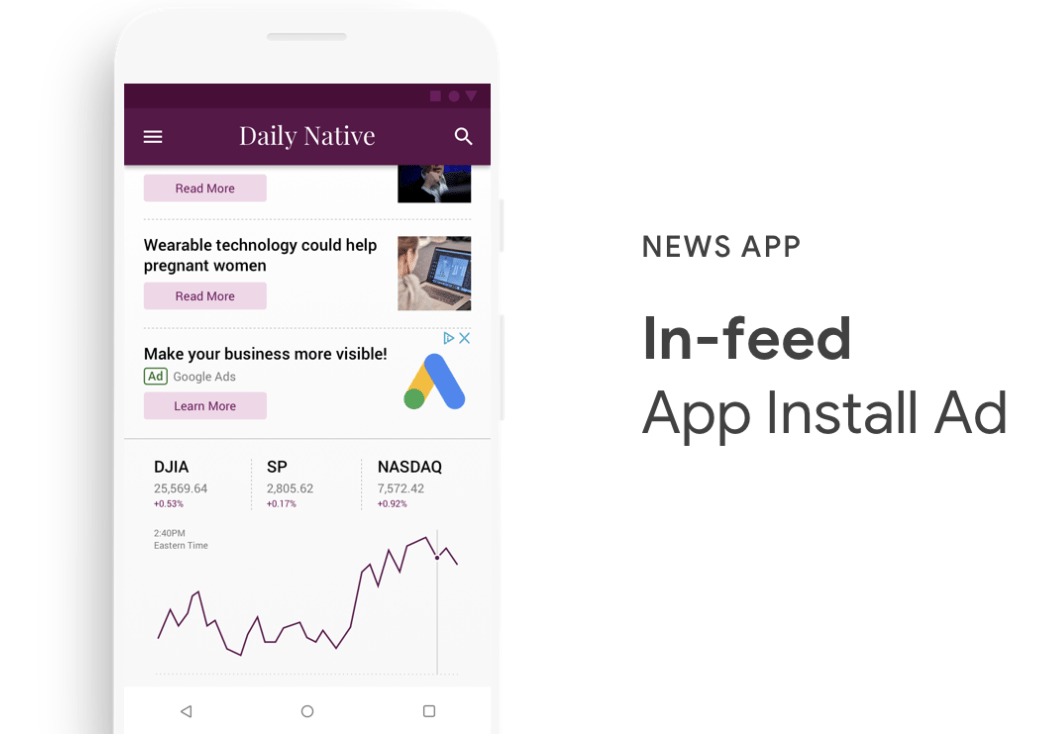 In-feed Admob ad. Source: Google
Why video assets are crucial for scale and what to keep in mind when generating them:
As I brought out already before, video assets can make a huge difference and mean either the success or failure of the campaigns. We have seen how a greatly narrated video with an engaging storyline and high-quality production can make the world of a difference.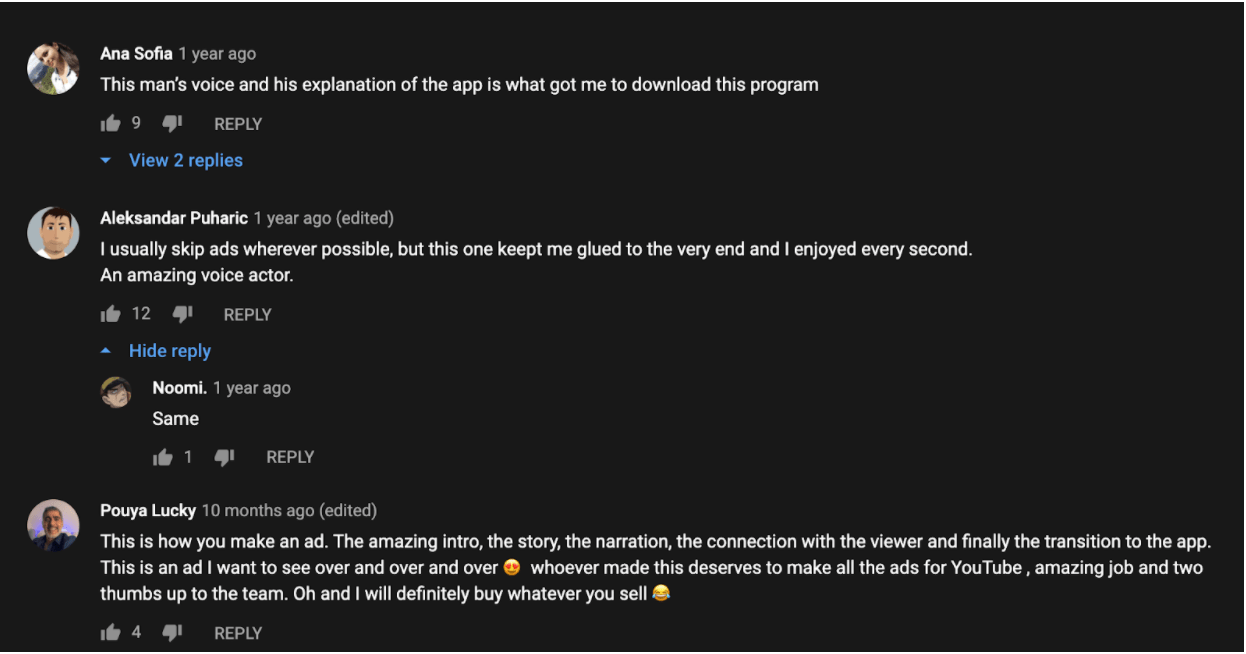 You normally don't see comments like this under a video for an ad. Especially for one that is 4 minutes long! The video link in 1×1 format can be found here: https://www.youtube.com/watch?v=pL0qym9olc8&t
The 16×9 format of the same video has now over 93 million views! 
What types of video assets to create for Youtube:
There are a couple of main types of videos to create
Animated explainer videos –  Two examples:





There are lots of service providers for these kinds of videos, although the quality of the animation can differ greatly.

Testimonial videos

–  Customers talking about your app, why they use it and what problem it helps them to solve. Should be fast-paced, with many cuts showing the footage from inside the app mixed with testimonial style reviews. Example:

Demo from the App with a voice-over

– Show a screen recording of a person using your app -All produced in an engaging and interesting way. Similar to explainer videos

Ads following a storyline

– See Synctuition's example again:

With gaming apps, the creatives will be a bit different as games with fewer resources will likely use demos from the app while the ones with higher budgets often have cinematic movie-like videos.

To sum up the main important points for creating effective video app ads:

Get into the actual experience of the app

Many ads do not rely on a complete story, instead, they use music to create an instant connection, or simply do a demo of the app

Ads should start fast and get to the point rather quickly

Audio is important, silent ads not so effective (almost all people watch youtube with sound). People might also be listening to music on YT while your ad comes, making your silent ad have 0 effect.

Tighter framing, bright footage, and large text + graphics help your message stand out on smaller, dimmer screens.

Faster pacing and cuts help to hold attention for shorter attention spans

Try to follow the ABCD model:

Attract: Open with impact; have a hook that keeps people engaged, bring out the pain point!

Brand: Bring out your brand naturally

Connect: Hold the viewer's attention with emotion, audio, pacing

Direct: Be clear on what the audience should do.

Try to follow the story arc of the digital age – getting to the climax quickly and offering your app as the solution. 

Source: Google

Keep in mind the Youtube placement specificities as well – avoid lower left and bottom, top right corner

Source: Google


Book a consultation and get advice for getting rid of the bottlenecks that limit your app from scaling profitably!



In conclusion

Google Ads is the second most important ad network for scaling your app and one of the most efficient ways to achieve huge growth in a limited time. In this guide, I covered the main best practices one should follow in order to achieve great results with Google App campaigns

If you'd like our help implementing these strategies for your app, click here 👈.

I have also written a similar very in-detail guide for Facebook app campaigns.

That's it! My kudos to you if you read this to the end and feel free to share it in your favorite channels if you found it useful.