Retail at Google 2018: Using AdWords and Assistant for Your Store
Here, I'll introduce some of the ideas and innovations that I heard about at the Retail at Google 2018 event. The first part gave a wider look on retail trends but coming to the second day of the event, it's all about putting ideas into practice and improving your Google AdWords marketing strategy.
Automation
Google has lately been pushing their AI and automation based features. And for a good reason – In the last year Google's automated strategies on AdWords have really improved thanks to machine learning. With the right setup, automation can get you more sales right where you need it. It allows you to take advantage of user-signals that only algorithms have access to. If you want to go in depth into AdWords automation, you can read more here. There, you can find some tips on how to implement smart bidding on your campaigns.
P.S. Automation is now available for Shopping campaigns as well!
Google Attribution
One offer from Google ties in nicely with the theme of the event – omnichannel marketing. In 2018-2019, they're releasing the new Google Attribution, which tracks sales across channels. You will be able to see in Analytics, how much different channels have contributed to the final sale. The importance of each channel is calculated based on its impact on conversion rates (how much more likely a sale is when the ad channel is part of the customer journey). This will help you evaluate even better than before, how much you should invest in each category.
Right now, you can track sales across campaigns and keywords in AdWords by choosing a different attribution models (instead of the default "last-click"). It makes sense for those accounts, where it often takes more than one click to decide to buy. By choosing one of these options, you can get a view of not just the last touch-point, but also the earlier moments, where your ads were assisting the customer to find your products.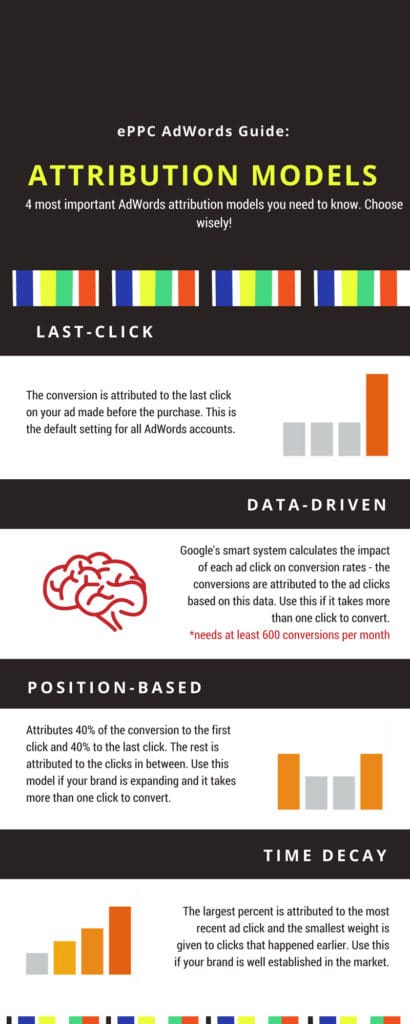 Data driven attribution (DDA) is part of Google's automated strategies and uses machine learning to know how much weight is to be given to each keyword on assisting the sale. To use it, the account needs at least 600 conversions/sales per month.
If your account doesn't have that many conversions, the Google team suggested using these two types of attribution:
Use position-based attribution if you're expanding (giving the most importance to first and last click).

If you're an established brand, they advised to use time-decay attribution (which gives the most importance to clicks on ads that are made more recently).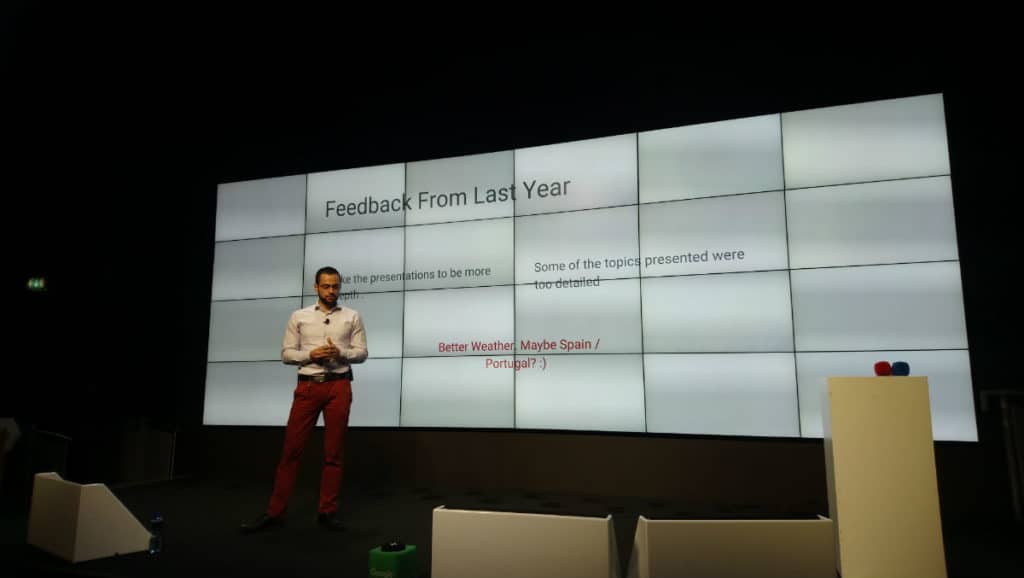 Tracking offline store visits
Another thing that was discussed, was how to get your online ads to bring more offline sales. For example, Google AdWords shopping campaigns can be effective in bringing store visits. The most important, though, is to be visible when someone searches for "stores open" or any kind of specific product to buy in a physical location. For this, use location extensions in your Google search ads to make sure that users find you!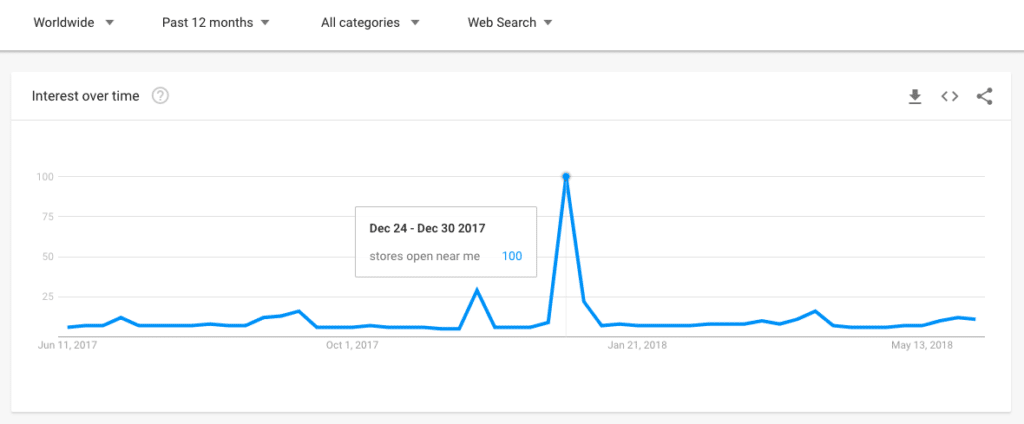 Why are online ads for offline stores so effective?
It's all about the customer wanting the best possible option. If they have done the research online already, and seen the different options and prices, there is a higher chance of them buying something when they walk into the store.
Still, how can you tell if there has been a positive effect from your online ads – how to measure it?
Set up store visits tracking, you can see how many people who saw the ad visited your store (set-up guide). From the store visits you can then calculate an estimate of how much revenue the ads have brought in. This feature is available for accounts with multiple stores and high traffic volumes.
This year, Google launched an advanced version of store visits tracking called Store Sales Direct. It allows you track real sales that come from ad clicks or impressions and and see how many website visitors went to your offline store. This needs a more advanced setup and validation, and some shops are already using it successfully by combining Google's measurements with data from their loyalty card uses. Check out here how to set it up!
Google Lens for Shopping
As well as now having automated strategies available for your Google Shopping campaigns, there's another nifty feature available. Google Lens users have the possibility of taking a picture of a thing they like, let's say a dress, and use it for looking up similar dresses to buy. If you have your products show up on Google's Style Match, for now, you don't even have to pay for someone to click on them.
How to get your Business on Google Assistant
The last presentation I saw at the event was on how to get your brand on Google Assistant. This was maybe the most exciting thing for me because in a few years, I believe, the way people search might look very different. I imagine that we'll get used to interacting with our devices in a more personal way. Google Assistant uses the data from your online presence, your calendar and whatever else you share, and it answers your questions in a more personal way than regular search. It can also be used to make bookings or buy things.
The cool thing for advertisers is – you can have your own "assistant" as part of Google Assistant, who the users can communicate with directly. By making yourself available in this way, you can increase the chance that a consumer will want to take advantage of what you offer. Also, you can create a personality for your brand and strengthen the personal touch.
Sad news is, this feature is still only available in the US. But this means that us in the rest of the world can already start planning for it and get on the Assistant with a full plan as it's launched.

How to set up your own brand on Google Assistant:
First, go to

https://developers.google.com/actions/

Click on "Start Building" or "Go to Actions Console"

You'll have to sign up with your Google account

From there, the easiest option is to use a template (trivia, personality quiz or flash cards)

If you wish to create something more complex, build your own custom action, using Dialogflow (step-by-step guide

)!
Tips and examples:
Think about which voice you want to use – there's also the possibility of using your own voice actor to have a unique personality for your brand

Some companies have used it to show a selection of products to buy or make a booking more conveniently

Think about which name you choose for your brand. United Airlines, for example, uses "United" and users can connect by saying/typing "Talk to United". There are still a lot of names up for grabs, so take your spot as soon as you can! (no one can use your registered trademark, though)
Extra: other options for Google Assistant
The second way of getting on Google Assistant (GA) is through Shopping Actions. It's another U.S.-based feature extended to shopping through GA, Google Express and Google Search results (yep, it's all U.S. based but might become global one day soon). Users can shop directly through these channels when they have added their credit card details to their Google account. To get on the programme, you need to fill in an interest form – by March 2018 thousands of retailers had applied and 40 were already using it.
There's a third way as well. In the U.S., once again, there GA connects people with local services such as plumbers, locksmiths and electricians. To get your service up there, you need to be listed as a qualified provider on Local Services by Google, HomeAdvisor or Porch.
Conclusion
As you can see from all the possibilities, Google is developing it's channels in very varied directions and they're certainly ready to innovate. The question now is, are you prepared for the future? What can you use that will give you the edge in your specific way and help win more customers?
Sources for the last section about options to get on Google Assistant:
https://www.searchenginejournal.com/google-shopping-actions-program/246505/
https://searchengineland.com/google-launches-cost-per-sale-shopping-actions-unified-shopping-program-across-search-assistant-express-294448
https://www.bluecorona.com/blog/google-assistant-local-services