Introduction
In recent weeks with covid-19 being declared a pandemic, the landscape for businesses and digital marketing has been full of uncertainty and sudden changes. Our agency has seen and analysed many Google Ads accounts which have drastic changes in traffic volumes and conversion rates, especially in the last 14 days (find some US-based examples in this Wordstream article). We are closely monitoring the situation for our clients since it has different effects depending on region and business vertical. During this time, we've had to adjust and learn with our clients to give them the best chance of success.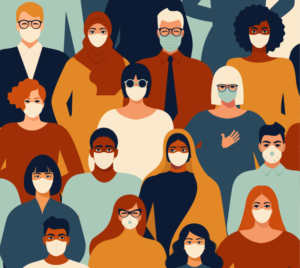 I gathered together some ideas on how to use digital marketing as a tool for staying informed and responding to the situation for the benefit of the business you are advertising. I'll also add some inspiring examples of how businesses have helped out with their communities in this time of crisis.
For starting off, here are a few practical Google Ads tips (for more GAds detail, scroll to point 3 in the next section):
Look for new searches on your Google Ads account search terms report.

One way is to choose the last 7 or 14 days to compare with the previous period. You can try different dates but always choose a comparison period which has the same weekend-weekday ratio. Next, go to Search Terms and filter by Impressions change % – choose change over 50%. Now sort by impressions and see which searches have peaked recently.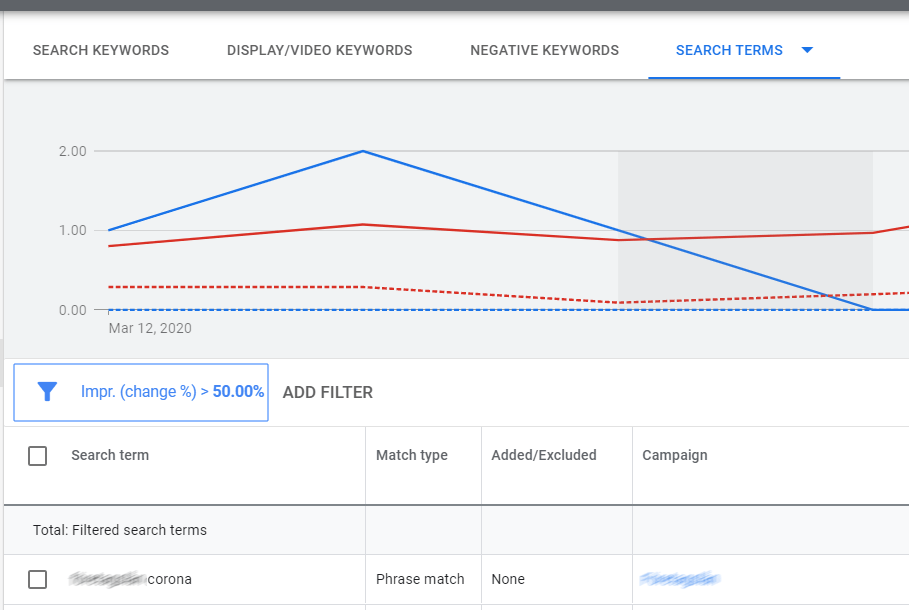 Look at the Overview tab to see new search terms. Check for

searches that are completely new in your account. You might see "corona" appear as a search and add it as negative if needed. (p.s. Google forbids bidding on coronavirus keywords but it might turn up with your broader terms). There might also be other interesting changes in searches which you don't even expect.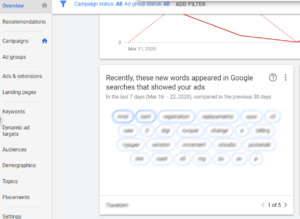 Check Auction Insights to see what's happening with your competition.

Segment by week or day to see if someone has dropped out or if there are new competitors.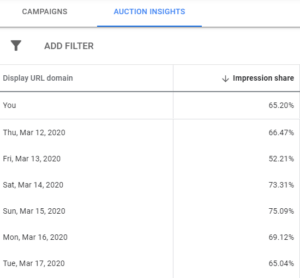 Compare CPC price changes and search volumes week to week

. Along with the Auction Insights report, it will give you an idea if your keywords are getting more or less competitive.

Advice for (online) businesses & digital marketers
1. Talk to your website users, they will appreciate it
It's easy to shut down and be scared at this time but as someone providing services or products to others, it's important to communicate. A lot of people turn to the internet to find more information on what's going on, what is safe and what isn't. You can provide safety information for your clients and they will trust you more for it. Also, like a supermarket, why not let people know that you actually have more toilet paper coming in soon!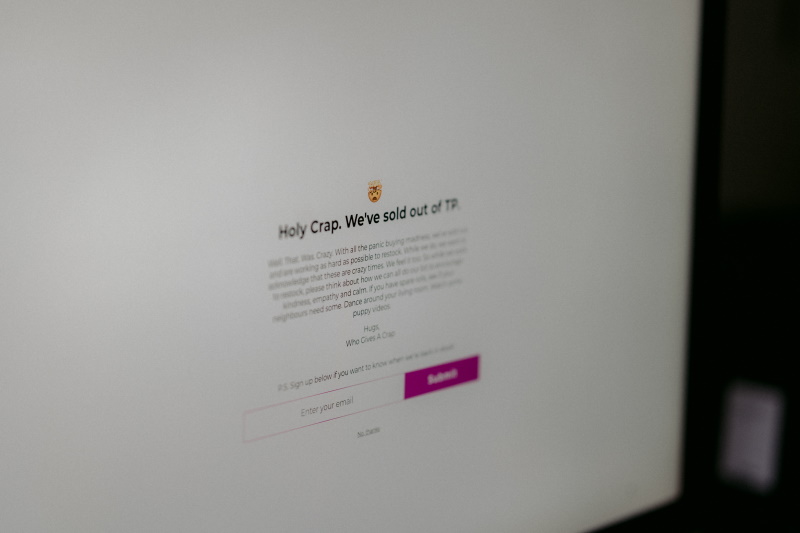 If you are an eCommerce marketer, there might be questions about the safety of deliveries. Just recently, I got a package delivered and the person who gave it to me was wearing a mask. Also, he signed off on the package for me to minimise the contact. The online store from their side has the chance to share that information, letting the clients know what precautions they are taking and also giving advice on how to act when receiving the package. This can also be translated into Ad messaging, reassuring your clients from step one and increasing CTR.
2. Move online
A lot of businesses depend on live contact. There are some things you certainly can't do online. But often, the services have their components which can be moved online. As people are adjusting to the quarantine situation, they also turn to the internet for filling their time. Schools, musicians, yoga teachers, all are finding their niche through various online media channels. If clients are dwindling, why not adjust to the situation and figure out how to use your expertise and provide value to folks sitting at home.
One place where you can create personal connections with people who are looking for a bit of expertise is Qoorio. Maybe you're a freelancer or just working at a place (e.g. beauty salon) where client flow has been a bit slow lately. The Qoorio platform can let you find a new way of using your knowledge to help out curious people, making connections and getting a bit extra cash.
Another way to bring the new service to people is to use your contact list to approach existing clients with your new services. For example, my flamenco teacher invited the class to join her lessons on the platform Thinkific, where she had uploaded videos of all the important steps we need to practice. There are lots of other options to choose from so it's worth searching around a bit to find the best fit for you.
3. Collect data using Google Ads & make informed decisions
Google Ads campaigns have several features which help you understand the market situation better. The crisis doesn't have the same effect on every business and online channels can still offer opportunities for growth. If you have expanded the online presence of your business, it's a good idea to start advertising on Google Search for the right keywords. And if you're running Google Ads campaigns already, it's time for readjusting the campaign structure for the changing situation.
In case the data is showing a short term decrease in profits but you're unsure if it will continue, it's wiser to first lower bids and close things only partly. Remember that automated bid strategies should be changed around 20%-30% at a time to keep them functioning effectively and it's better to go step by step. Google Ads and other online media platforms offer the chance to adjust your spend day to day and react to changes. It's important to keep monitoring these things daily but make big decisions only if you have enough consistent data over a longer period.
Here are a few important ways to make use of the data that you have in Google Ads
Auction insights
Learn how your competitors are reacting to the situation and find out if you have a chance to advertise more cheaply if someone has dropped out. Even if your conversion rate drops, lower competition can mean that you still get the CPA that is profitable. 
Click here to learn how to get started with Google Ads auction insights.
Search volumes
Check for changes in search volume in your Google Ads campaigns. You can go over the different metrics:
If impressions have increased but impression share is the same, this means that there are more searches
Check CTR and conversion rate to see if there is an increase in interest for visiting your site and buying the product
If the search volume goes up, there's a bigger interest and a bigger pool of customers searching, which can make advertising cheaper in terms of cost per one click. Even with a smaller impression share and lower bids you can then get more traffic to your website.
If your impression share & positioning is the same but impressions and clicks drop, that's a clear indication that search interest has gone down. Check campaign by campaign or keyword by keyword, where exactly this drop has occurred.
If your search interest has had a severe drop you might think just pausing everything is the answer. But the lower search interest also means you are not paying for these clicks which people are not making. Paying very little for the ads but keeping them open will give you an opportunity to see directly from your account when the search interest comes back. Even with a low impression share and limited budgets, you can monitor changes in search volume, getting valuable data on when's the time to re-activate campaigns.
Another way to check for search volumes is by using Google Trends. Why not go over your most important searches and see how they have changed over the last weeks. You also compare them in Google Trends with the search volumes for the coronavirus topic in your target region.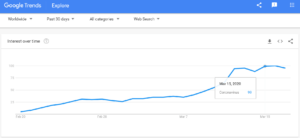 CPC prices
This also relates to the previous 2 points – competition and search volumes. If there are more people searching and less advertising, this could mean a drastic drop in how much you have to pay for one click. This could be a positive change in terms of your cost per conversion prices. This all depends on the keywords you are advertising on, so you'll have to check and test it on your account. With this level of change in peoples' behaviour, it's important to adjust your campaigns to the new situation. Some things that haven't worked for you before can work better now.
A few places where you could see a CPC price drop are the Google Display Network, YouTube & Facebook. Since some advertisers are pulling back their ads but people are more online, Display campaigns might work better for your business than before. But don't forget to be mindful of what your message is, who you're showing it to and how it fits the situation we are in.
Search terms
Related to the virus outbreak, the landscape of what people search for can change. Look at the changing search terms and ask yourself these questions:
Are users looking for information that I could provide them regarding my business? Is there a FAQ you can create with that information?

Are the new searches relevant to what I offer or should I add new keywords as negatives? For example, if people are looking for official medical or government information, that's probably not the place where your ads should be.

Which searches for which products and services are increasing and which are decreasing? For example, travel from certain locations to certain locations has been banned but there might be some regions where people are still moving between.
4. Collect leads
If your product isn't selling that well at this time and you aren't completely strapped for cash then you could use ads to prepare for better times. It could be, for example, by offering free online content in exchange for an email address or encouraging people to get in touch for a consultation. For advertising, you can go over the more information-seeking searches and put ads up on Google. Another way would be to use Display campaigns, which currently can have cheaper clicks, and lead different audiences to your offer. Make sure to have any forms, emails & telephone numbers on your website tracked, so you can measure, where the collected leads have come from.
When making the final decision to buy something, customers are more likely to respond to ads of companies they have considered before. This also goes back to the first two points – if you keep communicating, and leave a good impression on the users, they will remember you once the situation changes.
5. Share your resources if you can
One strategy that follows from communication efforts and building trust, is to think of how we can support each other in this difficult situation.  It's good to take some time to think of what is really needed right now by our communities and how to be part of the solution. It could be as simple as sharing knowledge and expertise so we can learn from each other, offering a discount or free delivery on eCommerce products so it's easier to avoid the physical shops or if you have more resources, share them with those who most need it right now (be it online or offline).  Whatever we can do at this moment to support each other will have a cumulative effect of making the situation heal quicker. Here are a few inspiring examples of how entrepreneurs have responded to the situation:
Apps & online platforms
Marketing  professionals
Technology companies
Other
The value of digital marketing in times of uncertainty
The value of online advertising in these troubling times can be summed up by bringing out 3 things.
First, to understand what the changing landscape is like, digital platforms offer tools for analysis.

Second, digital channels can become a way to reach more people while foot traffic dwindles.

Third, online tools such as Google Ads offer flexibility – you can choose each week to bid more or less, as you see your conversion rates change.
If you're in trouble, instead of pausing everything, it's worth looking at the ad cost in relation to the value it brings and keeps it at an optimal level as you go along. Good ads optimising is a big part in this and more important than ever – there might be campaigns that don't work at all any more and other new things you haven't tried which will work better than before.
I've brought out some methods in this article which I've been using as a Google Ads manager and also inspiration from others that I have seen around these last weeks. As the weeks ahead await, there will be new developments and solutions to be discovered. I hope you found some ideas while reading this. Let me know in the comments how you are dealing with the situation and if you have any advice to add to for sharing!